Calling all badminton enthusiasts, champions in the making, and seasoned players! The stage is set, the shuttlecocks are ready to soar, and the excitement is palpable as MJ Badminton Academy proudly presents the much-awaited District Badminton Tournament 2023 for Men and Women.
Get your racket ready, mark your calendars from September 7th to September 10th, 2023, and get ready to make history at the majestic IISE College Campus, located on the picturesque Kanchana Bihari Marg, Kalyanpur, Lucknow, Uttar Pradesh.
Table of Contents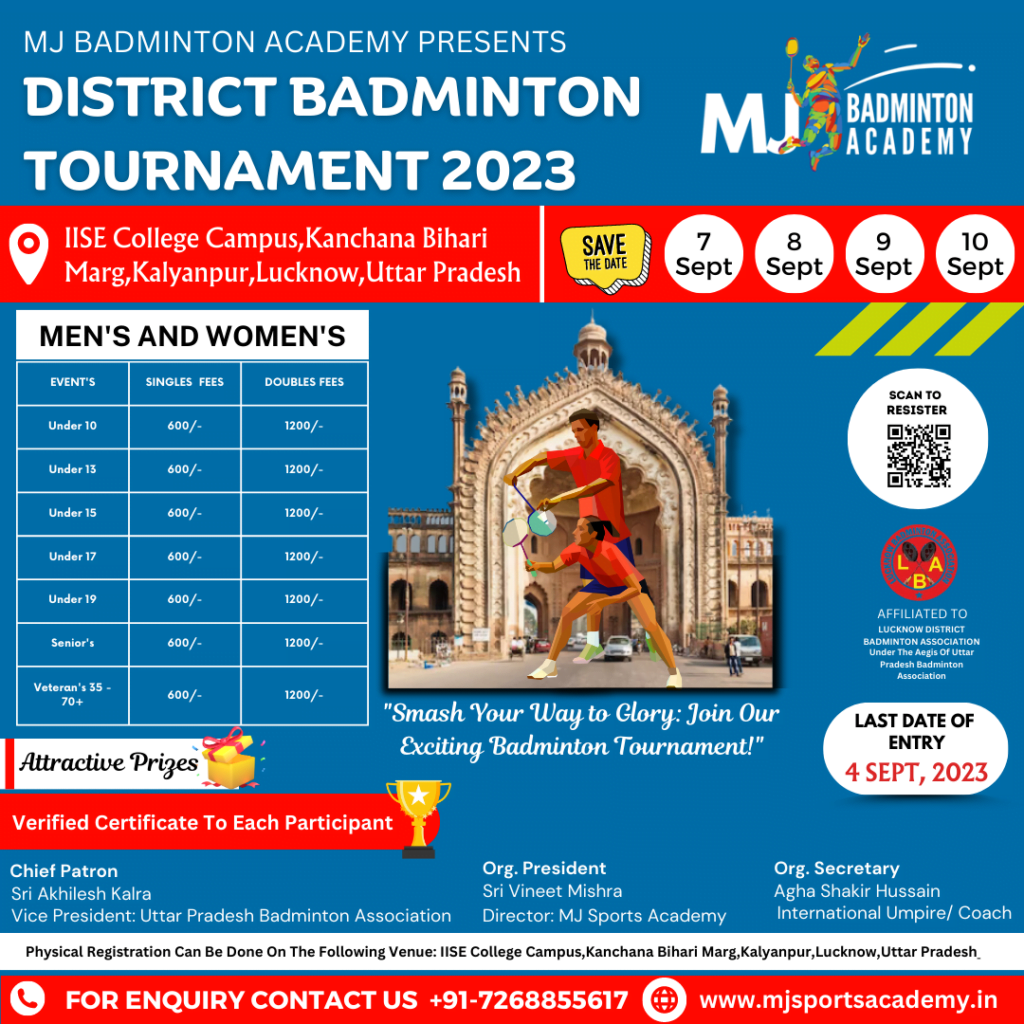 This tournament isn't just another competition; it's a celebration of passion, sportsmanship, and the sheer thrill of the game.
With a diverse array of events catering to different age groups – from the fiery Under 10s to the experienced Veterans aged 35 to 70+, there's a category for every player to showcase their skills and love for the sport.
Whether you're a young prodigy or a seasoned campaigner, the MJ Badminton Academy District Tournament welcomes you with open arms.
Key Highlights of District Badminton Tournament 2023
Event Categories: Under 10, 13, 15, 17, 19, and Veterans (35–70+).
Venue: The prestigious IISE College Campus, where legends are born and memories are made.
Dates: From September 7th to September 10th, 2023 – four days of intense battles and unforgettable moments.
Last Date of Registration: Secure your spot by registering before September 4th, 2023.
Registration Fee: A nominal INR 600/- for Singles and INR 1200/- for Doubles – a small investment for an experience of a lifetime.
Rewards: Not just glory, but attractive prizes await the champions of each category.
Certificates: Every participant will receive an official verified certificate, a testament to your dedication and sportsmanship.
Affiliation: The tournament is proudly affiliated with the Lucknow District Badminton Association under the esteemed aegis of the Uttar Pradesh Badminton Association – your assurance of a well-organized and fair competition.
How to Join District Badminton Tournament 2023
If the prospect of showcasing your badminton prowess in a competitive arena excites you, it's time to take action. The registration process is simple and hassle-free. You can either click on the provided link below and fill out the registration form or reach out to us directly at +91-7268855617 for more information and assistance.
Imagine the adrenaline pumping through your veins as you step onto the court, the cheers of the crowd echoing in your ears, and the sheer joy of playing the sport you love at a tournament that celebrates your dedication. The MJ Badminton Academy District Tournament 2023 promises all this and more.
Whether you're a fierce competitor aiming for victory or an enthusiastic supporter of the sport, this tournament is an unmissable event on Lucknow's sporting calendar.
Join us, be a part of history, and let your badminton journey soar to new heights. Get ready to smash, serve, and succeed at the District Badminton Tournament 2023 – because in the world of badminton, champions are made, memories are etched, and legacies are created!